Techniques Involving NLP.. You Can Try These at Home .. They are Fun
Now that we have fully got to grips with some of the basics of NLP; such as the Modalities; as well as the Submodalities we can have a look at a few techniques for you to try at home for fun.

If you are interested in learning NLP it is advised to use a professional practitioner or take a NLP course, more information on that can be found.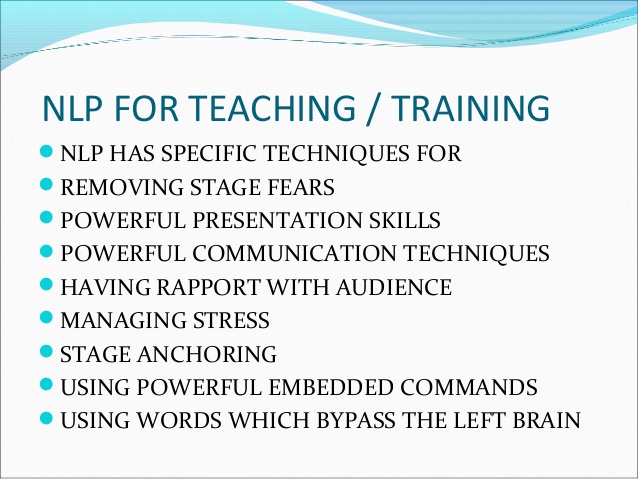 Change how you feel about Something or Somebody ~ Submodality Shifts
By discovering your base-line submodalities you can change how you feel about a situation or a person.


Once you have pictured the person you may be feeling some familiar, unwanted feelings that accompany that image or memory.
Visualize the person as clearly as you can and try; and discover which submodalities you are using.
Is the image big?
Is the image bright?
Does the person speak?
Is what he says mean or hurtful?
What's his tone like?
Is he loud or quiet?
To dilute any negative feelings that surround a person you can change the submodalities. Each person's will be different. But you can try the following and see what works for you:-
Make the image very small
Dim the brightness and turn the image black and white
Turn the volume down
Move the image nearer to you and then far away from you.
Speed up the film
Imagine them speaking in a silly voice like Mickey Mouse.
Laugh at the changes and remember that feeling.
Reframing Techniques: A Key NLP Concept
I see reframing a bit like the myth of Pandora's box.  In ancient Greek mythology, when Pandora opened the box that contained all the world's spites  all she could focus on was hope that had accidentally got trapped inside.
In NLP there is the underlying assumption that there is no definitive good or bad, just the meaning that each of us gives to an event or situation, according to our own perspective and experience.
Reframing is simply putting something in a different context or frame or choosing to focus on a different aspect of the situation.
Reframing techniques are not new
However, it's a timeless concept as seen in the Greek myth of Pandora. The Greek heroine could have chosen to focus on all the negative darkness that she had just released into the world ~ hate, disease, death, war and pestilence. But instead she chose to focus on hope that had accidentally got trapped inside.
Similarly in life, we can change the meaning of an event or a situation by changing how we choose to look at it or 'frame' it.   By 'reframing' a situation we previously saw as negative we change our reaction and behaviour as well into something more positive.
Have a look here at another fun technique. These techniques are given as a little taster for NLP. But for best results it is recommended to work with a trained practitioner. For more information on courses and NLP practitioners, please click here. We also have some useful links and readings.